Introducing Tree Check A Cost Effective Tool For Tree Risk Assessment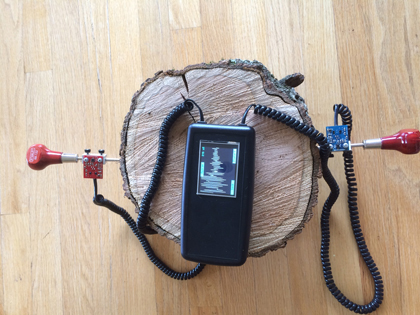 Tree Check Sonic Wave Tree Decay Detector is a breakthrough technology in sonic wave timers that will become an international standard in the pre-climb safety check, tree risk assessment and urban forestry inventories. Tree Check is designed for arborists and urban foresters as a low cost, simple to use, reliable field tool to detect the likely presence of significant decay, cavity or cracks in standing trees. Used properly it can "see inside the tree" revealing areas of concealed severe deterioration that undiscovered could result in tree structural failure or resultant property damage or personal injury.
Read the Tree Check Users Guide for details.
USDA Bulletin on Use of Stress Wave Timers
Following is a 4 minute video introducing the science and practical use of the Tree Check tool.
Tree Decay Detection Tools
Visual inspections for tree stability evaluation are limited by concealed internal trunk decay and defects. New tools are now available to allow arborists to "see inside" tree trunks using single path sonic wave timers, multi-sensor acoustic tomography and micro-drill resistographs.
Sonic wave timers use two sensors on opposite sides of the tree trunk to measure an impact induced sound wave's transit time across the trunk. Sound passes more quickly through solid, defect free wood. A larger than expected transit time per foot or per meter can indicate internal hidden defects.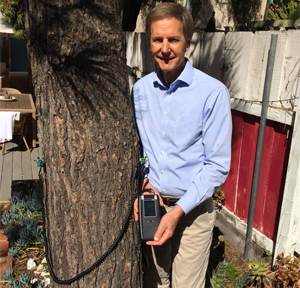 More elaborate and expensive equipment called multi-sensor acoustic tomography produce a computer-generated image representing the approximate location of wood density changes and defect on a tree cross section.
Resistographs are another method of displaying changes in wood density related to decay and cracks. Using a hand-held portable drill, a needle-like drill bit is projected into the trunk. Its torque resistance is measured as it passes through the annual rings and is displayed on graph paper or a computer screen. Changes in amplitude on the graph reveal wood density variance and decay.
About R Bruce Allison, PhD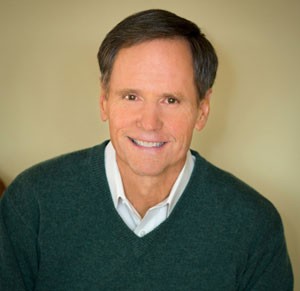 Consulting arborist R Bruce Allison is an author, educator, researcher and inventor. He is an internationally recognized expert in advanced technology in tree decay detection and tree risk assessment.
Municipalities, corporations and individuals can benefit from his sophisticated tools and knowledge. He has the expertise and experience in advanced tree decay detection to identify problem trees.
He holds an undergraduate degree from Brown University and Master of Science and PhD from University of Wisconsin-Madison. He is an Adjunct Professor in the Department of Forest and Wildlife Ecology University of Wisconsin-Madison and a Cooperative Researcher at USDA Forest Products Lab.
If you believe that trees and people need each other and want to support his research, education and outreach efforts with a financial gift please go to the Help Fund Research link

B O O K S B Y R. B R U C E A L L I S O N
  Wisconsin's Champion Trees

by R. Bruce Allison | 2005
A listing of the locations and measurements of the officially recorded largest trees for 153 species. Photographs by B-Wolfgang Hoffmann.
Foreword by Dick Rideout, Former Wisconsin State Urban Forestry Coordinator
Distributed by University of Wisconsin Press
www.wisc.edu/wisconsinpress
Buy from Amazon
Every Root an Anchor

by R. Bruce Allison | 2005
Over 100 fascinating tales and photographs of Wisconsin's most famous and historic trees, including references to Frank Lloyd Wright, Aldo Leopold, and John Muir. Foreword by Paul DeLong, Wisconsin Chief State Forester
Published by Wisconsin Historical Society Press
www.wisconsinhistory.org/whspress
If Trees Could Talk

by R. Bruce Allison | 2009
If Trees Could Talk tells readers aged 7 to 12 fascinating stories of noteworthy trees across Wisconsin while encouraging them to appreciate and manage natural resources wisely and respectfully.
Published by Wisconsin Historical Society Press www.wisconsinhistory.org/whspress
Buy from Amazon